Get the depth of a personal trainer, without the cost
---
Maximum precision, maximum accountability.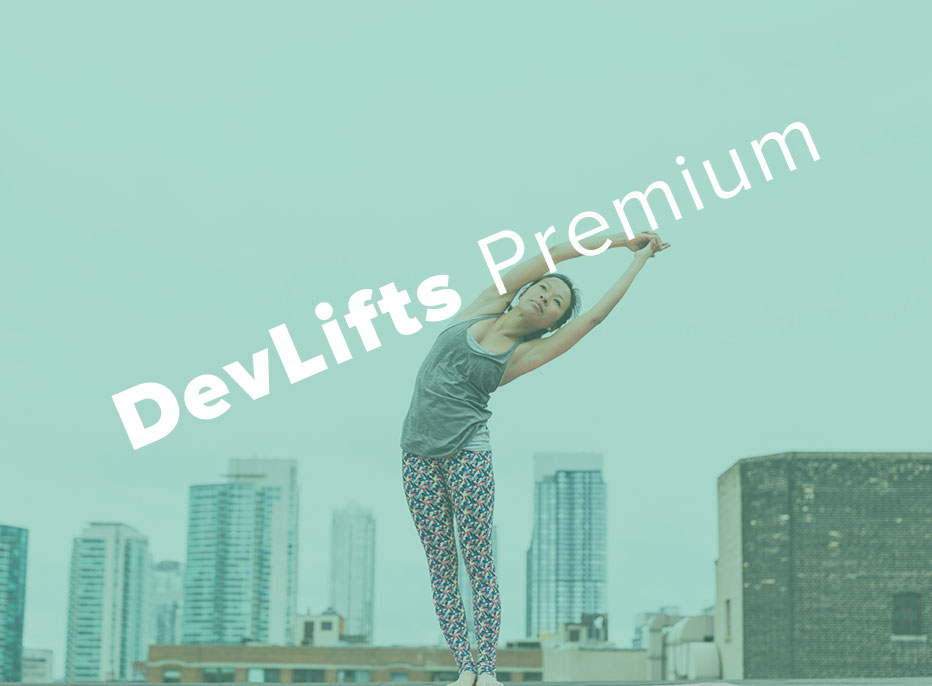 DevLifts Premium
Need an extra level of accountability? Have really specific goals? Working around injuries and want some extra help working out safely? We've got you covered.
Great for any experience level
Gym or no gym — totally up to you
All diet constraints can be accomodated (including vegan, vegetarian, keto, and more)
An in-depth consultation questionnaire so we can learn all about your goals, experience, and training/nutrition preferences
Laser-focused training & nutrition details with 8 weeks of revisions included
Access to our private Slack community
Dedicated private Slack channel so you can privately chat directly with your coach
Weekly check-ins to make sure you're on track
Ability to schedule a video check-in call if you need it
Ability to film yourself and get form critiques from your coach
Our Insta-Refund Guarantee: If you are not 100% satisfied with your purchase, simply email us saying so and we'll refund your most recent payment in full.
No questions asked.
Our Insta-Refund Guarantee: If you are not 100% satisfied with your purchase, simply email us saying so and we'll refund your most recent payment in full. No questions asked.
Almost there
---
Review your order

DevLifts Premium - 8 Weeks
Includes an in-depth consultation questionnaire, a personalized workout and nutrition plan (free revisions included for 8 weeks), and access to our private Slack Community.
Your order total is $199
Join the community
Join the DevLifts community and take control of your health.
Upon signing up, we'll send you an in-depth questionnaire to get to know you, your goals, how you feel, your experience level with exercise and dieting, and more.
Frequently Asked Questions
Will I be billed monthly?
Nope. This is a one-time purchase product.
Are you qualified to be giving fitness advice?
Firstly, Thad is a certified personal trainer, and J.C. is currently an ACE personal training candidate. Thad will be making and signing off on the plans until J.C. finishes his certification.

Secondly, J.C. is a developer himself who has experienced firsthand some of the health problems brought on by the average developer lifestyle. Not only will this influence all the training and recommendations given by DevLifts, but it also means there's a great deal of empathy he will be able to have for everyone.
How is DevLifts different from existing fitness sites?
Firstly, we're specialized. To our knowledge, DevLifts is the only developer-centric fitness community on the Internet. Everything we do revolves around helping you, the developer, achieve a healthier lifestyle. This means you benefit from a highly targeted approach and an encouraging, like-minded community to keep you going.

Secondly, no fluff. We're not here to waste your time or play games with you — we're here to help you feel better, look better, and live longer. And all our content and programming will be published to that end.
How is DevLifts different from hiring a personal trainer?
Only in the ways it needs to be.

Less expensive. Thad works as a traditional private trainer for his day job, and his lowest-paying client still racks up a $360/month bill.

No chaperones. We get that it can be uncomfortable having someone look over your shoulder and chit-chatting while you're trying to work out. That's another beauty of DevLifts: all the expertise of a certified personal trainer — without the trainer.

Community. Benefit from a community of like-minded developers who are on this journey with you. We haven't met any personal trainers with membership forums or Slack channels.


I'm not interested in becoming a bodybuilder. Is DevLifts for me?
Yes! We will have plans suited for all sorts of goals and lifestyles. You set your goals. We're here to provide you with resources and motivation to achieve them.
What kind of nutrition details do you provide?
Because DevLifts Premium is totally customized to you, this will be 100% dependent on your situation. It's also most likely going to be in flux, as we'll dial in your nutrition on an ongoing basis as you plateau or if your goals change.

You'll also have access to our private Slack Community, so you can always discuss your diet with other members and ask questions (our #nutrition channel is really helpful).
Is a gym required?
DevLifts Premium is completely customized to your situation and preferences, so this is really up to you. We always recommend having a gym membership, but it's by no means a requirement to see results!
What will the workouts be like? Will they be hard?
The workouts will be challenging, but nothing you can't handle! Even if you are unable to finish a workout, we design the programming in a way that you can still benefit from the work you did do. Don't worry about whether you'll finish a workout or not — the most important thing right now is that you start. We'll be there to check in with you each week and adjust workouts as needed.
How many days per week will I be working out?
This is totally dependent on you. You will specify how many days you can commit to working out in your onboarding questionnaire.
What kind of equipment will I need?
DevLifts Premium is 100% customized to you, so we'll create your programming based around the equipment you have access to.